Benelli LUPO Bolt-Action Rifle
Additional Information for the following; Walnut and black (6.5 Creedmoor, .308 Winchester, .30-06 Springfield, .300 Winchester Magnum)
Finish:                                Black
Action:                               Bolt
Barrel Length:                  24″
Hand:                                Right
Round Capacity:             4 + 1
Gun Weight:                    7 lbs
Additional Information for the following; Walnut and black (.270 Winchester)
Finish:                           Black
Action:                          Bolt
Barrel Length:             22″
Hand:                           Right
Description:                1:10 Barrel Twist
Round Capacity:        5+1
Gun Weight:               7 lbs
Benelli LUPO Bolt-Action Rifle
Benelli LUPO Bolt-Action Rifle created the original bolt-action rifle. The LUPO delivers incredible sub-MOA accuracy, cutting-edge ergonomics, and a distinctive fit right out of the box, living up to Benelli's long legacy of making renowned performance rifles. The LUPO is outfitted with a precise barrel that is free-floating and treated with Crio®, as well as a hardened steel barrel extension that is bedded to a steel block in the alloy receiver and is made for pinpoint accuracy.
A rapid, steady pull from an adjustable trigger reduces anticipation. An exclusive, integrated Progressive Comfort system and CombtechTM cheek cushion absorb and diminish recoil for improved control and less muzzle flip. The LUPO boasts an ambidextrous, easy-to-manipulate top safety in addition to the renowned AirtouchTM texturing for a firm grip on the rifle, substantially enhancing control.
Benelli LUPO Bolt-Action Rifle IN STOCK FOR SALE
Crio-treated, free-floating barrel
Hardened steel barrel extension
Alloy receiver
Progressive Comfort system
Combitech cheek pad
Airtouch texturing
Adjustable trigger with a crisp, reliable pull
Ambidextrous top safety
Cutaway bolt
Detachable box magazine
Sub-MOA accuracy
Improved ergonomics
Superior control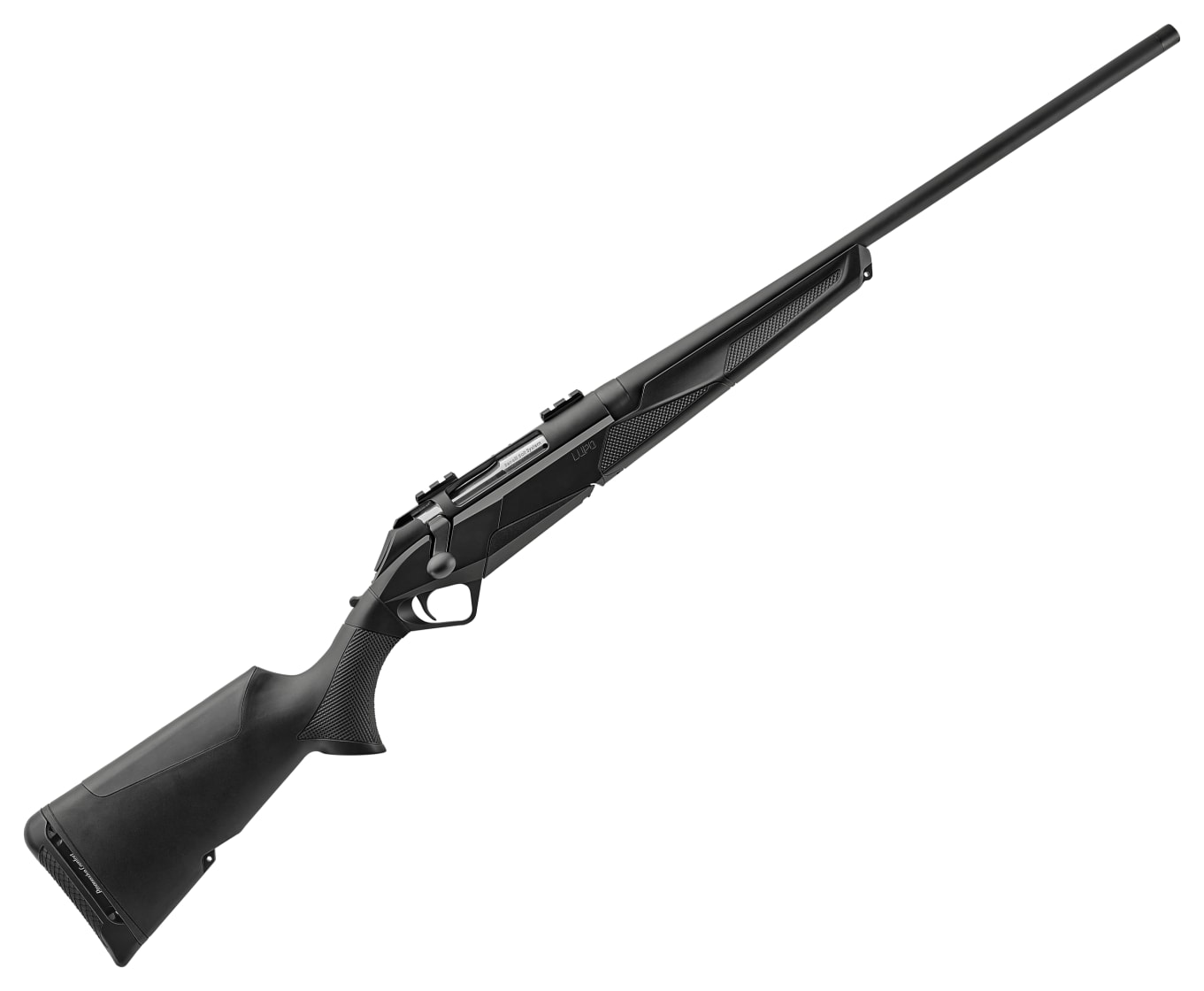 Accokeek, Maryland, January 2022 Bolt-action hunting rifle standards were upgraded in 2020 with the introduction of the brand-new Lupo by Benelli USA. This year, the company expands the award-winning Lupo BE.S.T. series with high-end wood stock models, fusing the firm's precise performance and technical innovation with contemporary design and streamlined ergonomics.
2022 will see the release of 6.5 Creedmoor-caliber Benelli Lupo BE.S.T. variants.
One of the coziest guns available right now is the Lupo. High AA-grade wood stocks and ergonomically sound designs are offered for the 300 Win-Mag.
The shiny, field-tested Benelli Surface Treatment (BE.S.T.) on the barrel is a feature of the new Lupo BE.S.T. rifles. Benelli backs this finish with a 25-year warranty since it is reliable at avoiding rust, corrosion, and abrasion.
A brand-new, exclusive finishing technique called BE.S.T. (Benelli Surface Treatment) was created by engineers and scientists at Benelli's production headquarters in Urbino, Italy. A protective coating is applied to objects using a combination of physical vapor deposition (PVD) and plasma-enhanced chemical vapor deposition (PECVD) technologies. In comparison to other gun finishes on the market, this coating offers higher corrosion and abrasion resistance.
Benelli LUPO Bolt-Action Rifle available in stock for sale buy now
The rich walnut stock has a sturdy satin finish that appeals to admirers of classic rifles and endures the harsh conditions and regular use for which Benelli weapons are famous. This finish complements the glossy BE.S.T. surface on the barreled receiver. The Lupo's functionality is maintained by the Monte Carlo stock design and its added features, which include the Progressive Comfort recoil reduction system to minimize felt recoil and muzzle rise. The forend and hold's AirTouch Grip surfaces provide a stable grip in all conditions.
| | |
| --- | --- |
| colour | Walnut, Black |
| Catridge or Gauge | 6.5 Creedmoor, .308 Winchester, .30-06 Springfield, .300 Winchester Magnum, .270 Winchester |